You've seen it pop up in your Facebook feed a thousand times in the past week. "I'll play!" it begins. "Here are 10 musical acts, 9 I've seen and 1 I haven't." You're asked to guess in the comment section which band the poster hasn't seen.
It doesn't suggest that you cut and paste it to your own timeline, and yet most people do. And just like in that old shampoo commercial, your friends tell two friends, and they tell two friends… and so on and so on…
But why?
What is it about this particular Facebook post that has caught on like the proverbial wildfire, especially that it doesn't include a funny meme or cats/puppies/babies doing something adorable or any of the other usual prerequisites for something to suddenly become popular on the social media platform. When a friend posted this morning, "Ugh, I'm sick of this 10 bands thing. Who cares?" we found ourselves realizing that a lot of people care… and wondering why?
After speaking to people who have posted the status update — asking them to really think about why this particular game got even people who don't usually partake in such "Facebook silliness" to do exactly that — we found that the answer was sort of a variation on the old saying, "Life sucks and then you die." Except in this case, it was more, "Life sucks, but this game allows us to focus on happier times."
Our Favorite Things
It turns out that when we post about the bands we've seen in the past, it triggers a lot of happy memories. Ask someone what their favorite food is, and they might reply "pizza" without giving it too much thought. Ask people to list bands that they've seen, and they search their memories. And rarely does one attend a concert without their being something deeper attached to it. "We were in the front row at the Prince concert, and it was like he was singing to me," we might recall. Or "Oh my God, remember how wasted we were at the Phish show?"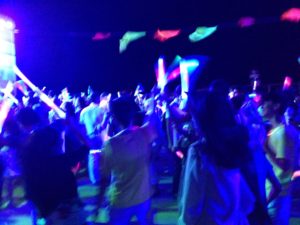 Sure, not all of those memories are going to be great. Maybe we got dumped at the Prince concert and were hospitalized for alcohol poisoning after the Phish performance. Yet there is still that emotional attachment, good or bad, to the event itself.
So that explains why we post. But why do others enjoy the guessing-game aspect? Perhaps because we all like to see just how well we know someone. Reading down their list of 10 bands, you stop and think, "Is that something they'd really go to?" And almost inevitably, there's at least one group on the list that makes you stop and say, "Nope, no way. She would never go to see a Queen cover band!" And just as inevitably, when you post that to their page, the person shoots down your theory by saying that Loretta Lynn was the one they've always wanted to see, but never did.
What The Heck
So… now that we've gotten that out of the way. Here's 10 musical acts, 9 of which we've seen, 1 we haven't. Go for it!
1) Psychedelic Furs
2) Madonna
3) Pet Shop Boys
4) Cindi Lauper
5) Julee Cruise
6) Bronski Beat
7) Carrie Underwood
8) The Little River Band
9) Tennessee Ernie Ford
10) Howard Jones