Los Angeles residents have seen it all. Or at least they thought they had, until an art display turned a kinda drab park that's more concrete than grass was transformed by a stunning kinetic sculpture titled Liquid Shard.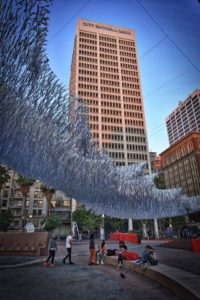 Who Created It?
Slated to remain in Pershing Park until August 11, the instillation was designed by Patrick Shearn of Poetic Kinetics. He  worked with a group of young people from AA Visiting School Los Angles, which is a week-long program for design students, in overseeing the incredible installation. The photos featured here are from the AAVSLA Instagram page, where incredible videos of the installation can also be found.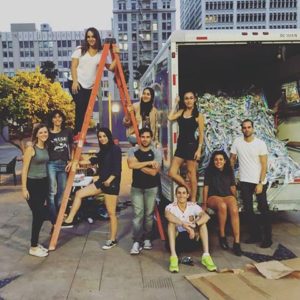 As impressive as the photos may be, trust us when we say that nothing compares to seeing the sculpture in person as it dances and moves with the wind. Since chances are that most folks won't get to experience the installation before it is removed, perhaps the next best thing is watching this video…
Their Next Big Project!
The folks at Poetic Kinetics are currently working on a major project to be unveiled at this year's Burning Man. Called Fire In Balance In The Round.  Shearn and company are no strangers to Burning Man, where they have presented numerous incredible art pieces to the masses. In fact, their latest is an update of the 2014 presentation, which was described as "an installation made up of an inverted fire box suspended within a pagoda-like structural frame."
For more on Fire In Balance 2016, and info on how you can help bring it to life, click here.