Ready for the most ah-mah-zing news of all time? You're not, trust us, but we're going to share it with you anyways: Happy Endings, aka the funniest show in the history of television (and that's just science!), is coming back!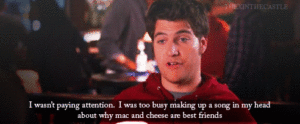 Okay, sure, it's only for one episode, and it's not actually going to be airing on TV. But if you're like us, you'll take another dose of the gone-too-soon sitcom any way you can get it!
The Details
The live reading of the never-aired script will take place at EW PopFest this October. Presented by the folks at Entertainment Weekly, the "ultimate pop culture  event" will also feature a performance from Nick Jonas, the cast of Crazy Ex-Girlfriend crooning a coupld of that show's signature tunes, and a closing-night celebration marking the 20th anniversary of the flick Scream.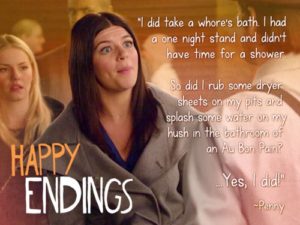 All this and more will take place at The Reef in downtown L.A. on the weekend of October 29 and 30th.  But let's get back to why we're really stoked…
The Main Event
For those not in the know, Happy Endings focuses on the comedic misadventures of six friends who don't live in New York City or hang out in a coffee shop. Sadly ratings would indicate there are a lot of people not in the know. Heck, Rolling Stone called Happy Endings "the most underrated, under-watched series on TV… that may also be the funniest."
But nothing we say here will actually sell you on the cancelled show the way the show will sell itself. So here's a fantastic introduction in the form of a 10-minute mini-episode comprised of the six webisodes known as "Happy Rides."
Having now met Penny, Brad, Max and the rest of the gang, your new mission in life is clear: Head to Hulu.com and watch all 57 episodes. Then, stay tuned for the inevitable moment when the PopFest reunion hits the web… and you know it will! And if you'll be in the L.A. area and want info on attending Popfest, click here!