There are few things in life that we find more awesome than puppies. So when one of our friends over at Sweatpants And Coffee told us about an art exhibit specifically designed for our four-legged friends, we couldn't wait to find out more about it.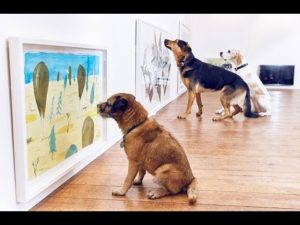 As it turns out, there is both good news and bad news where the exhibit is concerned. The bad is that the gallery — sponsored by the folks at More Than insurance as part of their #PlayMore compaign to encourage pet owners to spend more time with their furry companions — is no longer open. The good news, however, is that there are plenty of photos and videos capturing the sheer joy felt by the dogs who got to experience it!
"Play helps stimulate [pets] physically and mentally, " the company explained on their website, "and we believe happy pets are healthy pets."  With that in mind, they reached out to designer Dominic Wilcox to oversee the exhibition.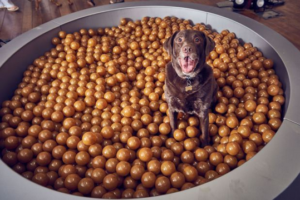 The selected paintings — all displayed at a dog's eye level — were all works done in the blue-yellow-gray color spectrum which the pooch's actually see in. But the real highlight was the interactive elements, which featured water "dancing" from one dog bowl to another, a 10-foot dog bowl filled with balls designed to look like dog food, and faux car windows outside which sat giant fans blowing meat-scented breezes for the pups to enjoy!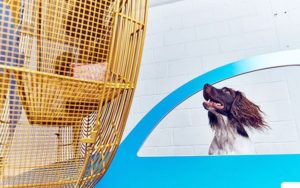 "Contemporary art has long been an important source of inspiration and fascination for humans," Wilcox explained, "but never before has it been created with a view to drawing the same kind of emotionsl out of animals instead."