Ever have one of those days when you know you need to exercise, it's darn near impossible to find the motivation to get your butt off the couch and do it? Well, let Derek Mitchell inspire you.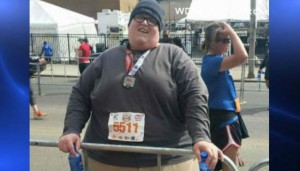 At 570 pounds, the Kansas City, Missouri native told the folks at Runner's World Newswire that he has vowed to run a 5k — that's 3.1 miles — every month for the rest of the year… and two in May! Mitchell hopes to shed about 250 pounds along the way, and has made changes to his diet to help accomplish that goal.
So take a moment to read his story here, and then step away from the computer, put down the bag of chips and bust a move. Because if Derek Mitchell can't inspire you, then nobody can!