Chiliana Kennedy may be the lead in Broadway's "Beautiful: The Carole King Musical," but at home, pups Molly and Dolly are the real stars. And the story of how Dolly, an adopted shelter puppy, helped the other members of the household learn to love again is truly something to sing about.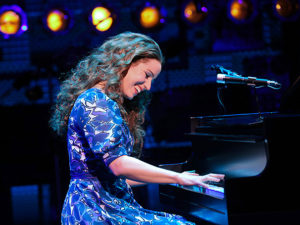 In a recent New York Post piece, writer Barbara Hoffman shared the heartwarming story just as New York City is preparing for the 18th annual Broadway Barks event. Kennedy reveals that six years ago, both she and Molly (a Portuguese water dog) were taking her divorce pretty badly.
Proving that people and pets are deeply connected on an emotional level, Kennedy says that Molly was "lethargic and didn't even want to eat. When I went to work, the look of sadness on her face broke my heart."  Deciding Molly needed a friend, Kennedy eventually added a poodle-terrier-dachshund mix she found on a rescue Web site into their household. And the rest, as they say, is history!
Although Dolly was petrified of people after having been taken from an emotionally abusive home, she quickly adjusted to life with her new forever family. And the newbie helped Molly, too! "They healed each other," Kennedy tells the paper, adding that they had the same effect on her.
Flash-forward a few years, and the household now includes a new man and a baby. Because what sort of fairy tale would not include high school sweethearts reconnecting 14 years later, as Kennedy and beau Jacob James did? Making the story even more dramatic: He actually tried to stop her first marriage by calling, out of the blue and after having not spoken for two years, to say she couldn't go through with it! (In recounting the tale to Playbill, she admitted, "I hung up on him!")

Next on Kennedy's appearance list is the aforementioned Broadway Barks, an amazing event created in 1999 by Bernadette Peters and Mary Tyler Moore. Featuring, as they used to say, "more stars than light up the heavens," BB helps New York City's shelter animals find forever homes while also raising money. For those who'd love to show their support, but can't actually attend the event, the organization sells Man's Best Friend bracelets, which can be purchased here!
Save
Save