Take a second to go get a pair of headphones and some tissues. We'll wait. Now… get ready to be transported by a 1,500 voice choir led by guest vocalist Rufus Wainwright. And then, after you've watched the video and said to yourself, "I must take part in this," keep reading. We'll tell you how you can do just that!
Okay, now take a moment and compose yourself.
So obviously, you're thinking, "How can I join this awesome group of people?" Well, the first step is… to go to or already be in Canada. Normally, Choir! Choir! Choir! meets weekly in the backroom of Clinton's Tavern in downtown Toronto.
How It Works
As their site explains, "You show up, you get a lyric sheet, and become part of Choir! Choir! Choir! You will join a group of highs, mids or lows, and by the end of the night, master three-part harmonies for a pop song or two." They have two Facebook groups: One for those who want to attend on a Tuesday and one for those who want to attend on a Wednesday.
Meet The Founders
Daveed Goldman and Nobu Adilman launched Choir! Choir! Choir! back in 2011 as a "weekly, no-commitment singing event." Since then their musical empire has expanded to include singing workshops, music festivals and even leading corporate team-building sessions. Meanwhile, their weekly sessions have found their devotees singing songs from the catalogues of everyone from A-Ha to Yazoo. (Come on, guys! We're gonna need you to do a ZZ Top number, if only to complete the A-to-Z thing we've got going here!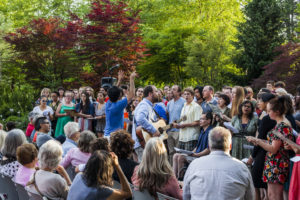 Got a special event coming up? You can even hire the Choir folks to perform. They'll gather a group of singers, train them and put on a show! Imagine wooing your special lad or lady by having a bunch of people to stand outside their window and sing "In Your Eyes." On second thought, no need to imagine it… here's what it would sound like!
For more on Choir! Choir! Choir!, click here.