Nazis and dinosaurs and robots… oh my!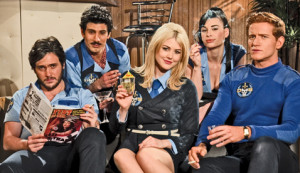 Welcome to the bizarre world of Danger 5, an Australian series which last month made its Netflix debut. Although it pretty much defies description, we're going to do our best. Set during World War II, Danger 5 follows the adventures of a group of international spies — bet you can guess how many based on the title — who are out to kill Hitler. Along the way, they must deal with She Nazis, blimps which steal the Eiffel Tower and someone claiming to be from the lost city of Atlantis.
Tell us you're not intrigued. On the off chance you somehow aren't completely convinced yet, here's the trailer. But be warned: Once you've seen it, there's no turning back. Close the shades and block the doors, because you're about to go on a binge.
You can thank us later.